เป็นผู้ผลิตและจำหน่ายอุปกรณ์ยึดแบบชนิดแรงทนดึงสูง สามารถใช้กับงานแบบหล่อคอนกรีตทุกชนิด ทุกขนาด เช่น กำแพงกันดิน กำแพงคอนกรีต (ทั้งใต้ดิน และบนดิน) ถังน้ำ คาน เสา ตอม่อ บ่อเก็บน้ำ (ทั้งใต้ดิน และบนดิน), บ่อบำบัด น้ำเสีย, บ่อพัก, งานหล่อคอนกรีตสำเร็จรูป และงานหล่อคอน-กรีตทั่วไป ทุกประเภท ซึ่งใช้กับงานคอนกรีตขนาดใหญ่ อุปกรณ์ยึดแบบมีความหลากหลายทั้งด้านชนิดของ การรับกำลัง และประเภทของอุปกรณ์ยึดแบบ ซึ่งประกอบด้วย เหล็กยึดแบบ ฟอร์มทายไทน์ , วิงนัท, ข้อต่อกันน้ำ, น็อตหกเหลื่ยม, น็อตล็อค, ข้อต่อตรง, เชียร์โคน, แคล้มป์สปริง, แคล้มป์ลิ่ม, พลาสติกโคน นั่งร้านเหล็ก ประกับ โพลีโคน ฯลฯ
Formworks Dywidag Tie Rod ThreadBar Benefit / ประโยชน์ที่ได้จากการใช้ไทรอทรับแรงทนดึงสูง
เนื่องจากเหล็ก Tie rod ออกแบบให้มีสันเกลียวหยาบแบบเกลียว DYWIDAG ซึ่งแตกต่างจากเกลียวหุนหรือเกลียวมิลในท้องตลาดทั่วไป ทำให้ขันน็อตเร็วและง่ายกว่า อีกทั้งคุณสมบัติของเกลียวหยาบจะยังทำงานได้ดีแม้ว่าจะสกปรกหรือติดสนิม

ด้วยลักษณะสันเกลียวหยาบแบบ DYWIDAG จะมีช่องว่างระหว่างสันเกลียวกว้างกว่าเกลียวละเอียดทั่วไป ทำให้จำนวนรอบในการขันน็อตประกอบเร็วกว่า และต้นทุนประกอบ รื้อถอนง่ายกว่า

น้ำหนักเบากว่าเหล็กเกลียวแบบรุ่นเก่า กว่า 50% ช่วยให้งานแบกหาม เคลือนย้าย หรือยกประกอนกันประหยัดและเร็วกว่า

สะดวกกว่าในเรื่องของความยาวที่ต้องการใช้ สูงสุดยาว 12 เมตร สามารถตัดได้ตาความยาวเท่ากับแม่แบบที่จะเทคอนกรีต ได้ทุกขนาดความยาว ไม่ว่าจะเป็น 60cm., 80cm., 1M., 2M., 4M., 6M. or 12M. ไม่ว่าจะตัดไปที่ระยะความยาวเท่าไร ความแข็งแรงของเกลียวยังคงสภาพเดิม อีกทั้งนำแต่ละขนาดที่ตัดแล้วมาต่อกลับหรือใช้สลับกันได้เต็มประสิทธิภาพ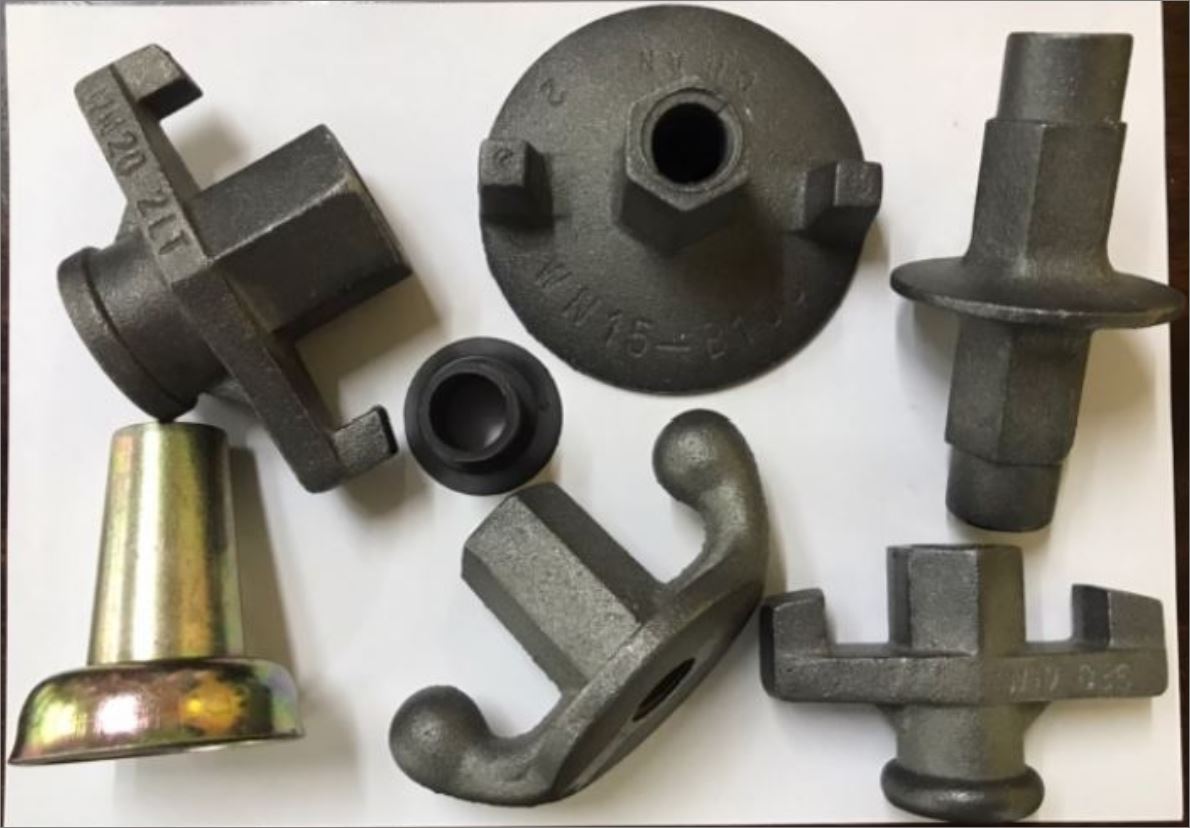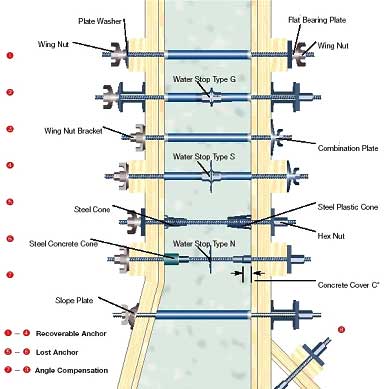 Our system and Services:
Strand Post-Tensioning System | Bar Post-Tensioning System | Structural Repair | Geotechnics | Mining Products | Concrete Reinforcement Technical Support and Service | Shop Drawing and Methodology | Value Engineering | P.T. Management on Site | Research and Development | High Grade Steel Thread Bar
Post-tensioning Thread Bar Systems
Post-tensioning Systems using bars as the core component had been diligently pioneered, developed and installed by BBV Systems' engineers in Thailand for more than a decade.(PT Bar)
Bar tendons is the first choice of civil engineers for structural designs where strand tendons are not suitable or not applicable. High flexibility is offered throughout various steel grades, diameters, and shape of bars and the choice between bonded or unbonded bar tendons. BBV Systems provides the required know-how and related systems to put designs properly into practice. Customers may take advantage of a variety of different bar systems. The portfolio of Bar Post-tensioning Systems comprises mature and tested systems for a multitude of applications in the world of construction:
PT Bar Systems is offering a wide array of bar products either as single components or as pre-assembled systems. For available bar sizes and grades as well as the range of custom-made bar systems please refer to the following matrices. Any specific bar type or bar system other than that might be made available upon request.
Fully HIGH STRENGTH STEEL BARS Threaded high-strength steel bars are produced from hot-rolled with continuous thread. Accessories as nuts or couplers can be screwed onto the bar at any point of the bar. Diameters range from 18 mm up to 50 mm, depending on the chosen system. The bars are available in different grades from 835/1030 up to 1080/1230 (fp0.1k / fpk [N/mm2]).
SMOOTH HIGH STRENGTH STEEL BARS Smooth high-strength steel bars are produced from hot-rolled with cold-rolled threads at either ends. Diameters range from 20 mm up to 75 mm, depending on the chosen system. The bars are available in different grades from 835/1030 up to 1080/1230 (fp0.1k / fpk [N/mm2]).
BAREX BARS Fully Threaded Bar The steel bars of grade 500/555 or 555/700 are offered in diameters from 25 mm up to 63.5 mm. These deformed bars are produced from hot-rolled steel bars with rolled-on continuous left-hand thread.
TEREX BARS Partially Threaded Bar Our unique low grade TEREX Bar patented by BBV Systems GmbH is economically rolled by similar method as regular reinforcing but features a threaded profile. Available with our TEREX? Bar is our patented Twin Shell Coupler for quick and easy coupling of misaligned bars. The TEREX? Bar system offers advanced time and labour saving installation but comparatively affordable alternative to regular reinforcing steel. DEFORMED CONCRETE Reinforcing Bar
Concrete reinforcing bars or short rebars can be rolled in accordance with local TIS Standards as well as various International Standards (e.g.: JIS, BS, DIN, ANZ, CANS). To the hot rolled standard deformed bars in the diameter range between 8 mm and 40 mm further value can be added through cutting, bending and fixing of rebars and pre-fabricated cages by BBV Systems Co., Ltd.
Formworks ThreadBar TieRod WingNut SteelCone : Form Ties are commonly used to tie formwork panels together and withstand the pressure from freshly cast concrete until structural members will have cured sufficiently to carry dead loads. Different accessories to the high grade BB Bar of diameter 15 or 20 mm like wing nuts or water stop couplers can be supplied to facilitate assembly and dismantling.
SUSPENSION RODS Suspension Rods or hanger bars can be used temporarily or permanently. Temporary hanger bars are used to lift, hold and lower heavy weights into place by means of cranes, gantries, girders or other hydraulic devices. By use of suspension rods attached to a bridge spanning arch or suspension cable structure and its superstructure a carriageway could be permanently held in place without intermediately supporting substructure.
HEAVY LIFTING Heavy lifting and lowering bar systems comprise high strength thread BB Bars of suitable diameters and specific lifting accessories such as split nuts and tapered couplers. Bars can be lifted or lowered by means of hydraulic bar jacks and actual bar position can be incrementally locked by the split nuts on spherical seatings.
we are generally focusing on post-tensioning and geotechnical systems for construction. In particular four main fields of construction will be served by the company with specified systems and products, i.e.: structural civil, geotechnical civil, tunneling & mining and concrete reinforcement. The category geotechnical civil covers all common and specialized structures and construction methods of civil engineers related to soil mechanics. CATEGORY APPLICATION SYSTEM / PRODUCT GEOTECHNICAL CIVIL Foundations for Poles, Dams, Quays, Jetties, Construction Pits, Retaining Walls, Soil Reinforcement, Slope Stabilization Mini Piles, Uplift Anchors, Tension Piles, Soil Nails, Ground Anchors, Tie Rods
SOIL NAILS Soil Nails according to German Approval or client's specific requirements can be supplied as temporary or as permanent nails. Tension bars embedded in cement grout are mild steel thread Barex or Terex Bars of nominal diameters 16, 20, 25, 28, 32, 40, and 50 mm. In specific cases also high strength steel BB Bars can be used to compose a suitable soil nail.
MINI PILES Mini Piles according to German Approval or client's specific requirements are available with single or double corrosion protection system. Reinforcing bars embedded in these piles are either mild steel thread Barex or Terex Bars of nominal diameters 28, 32, 40, and 50 mm, or medium-strength steel (555/700) thread Barex or Terex Bars of nominal diameter 63.5 mm.
UPLIFT ANCHORS Uplift Anchors or Tension Piles are commonly used to prevent any foundation structure from uplifting or floating due to buoyancy effects. Mainly foundation slabs or base slabs under water presure have to be anchored by such piles.
TIE RODS Tie Rods or tie backs are structural systems retaining single walls or connecting (tying) two opposing sheet pile or bored pile walls and prevent them from collapsing during excavation and backfill in between the two walls. Common application is marine ties used to tie permanent sheet pile walls together that are driven into place to form the later quay wall.
TENSION PILES Tension Piles under dynamic loads can be executed with single corrosion protection (SCP) or double corrosion protection (DCP) depending on the environmental conditions on site. Splices in this case have to be connected by couplers and torque lock nuts. The splice is corrosion protected by means of petrolatum tape and heat shrink sleeves.
Formwork Panel Scaffolding and Concrete Form Types Formworks ThreadBar TieRod WingNut SteelCone
Traditional timber formwork The formwork is built on site out of timber and plywood or moisture-resistant particleboard. It is easy to produce but time-consuming for larger structures, and the plywood facing has a relatively short lifespan. It is still used extensively where the labour costs are lower than the costs for procuring reusable formwork. It is also the most flexible type of formwork, so even where other systems are in use, complicated sections may use it.
Engineered Formwork System. This formwork is built out of prefabricated modules with a metal frame b(usually steel or aluminium) and covered on the application (concrete) side with material having the wanted surface structure (steel, aluminum, timber, etc.). The two major advantages of formwork systems, compared to traditional timber formwork, are speed of construction (modular systems pin, clip, or screw together quickly) and lower life-cycle costs (barring major force, the frame is almost indestructible, while the covering if made of wood; may have to be replaced after a few – or a few dozen – uses, but if the covering is made with steel or aluminium the form can achieve up to two thousand uses depending on care and the applications).
Re-usable plastic formwork. These interlocking and modular systems are used to build widely variable, but relatively simple, concrete structures. The panels are lightweight and very robust. They are especially suited for low-cost, mass housing schemes.
Permanent Insulated Formwork. This formwork is assembled on site, usually out of insulating concrete forms (ICF). The formwork stays in place after the concrete has cured, and may provide advantages in terms of speed, strength, superior thermal and acoustic insulation, space to run utilities within the EPS layer, and integrated furring strip for cladding finishes.
Coffor is a structural stay-in-place formwork system to build constructions in concrete. It is composed of two filtering grids reinforced by vertical stiffeners and linked by articulated connectors that can be folded for transport. A standard panel 1.10 m x 2.70 m (3′ 8 x 9) weighs 32.7 kg (72 lbs) and can be carried by hand or by any means of machine. After Coffor is placed, concrete is poured between the grids: excess water of concrete is eliminated by gravity and air is also eliminated. Coffor remains in the construction after concrete is poured and acts as reinforcement. Any type of construction can be built with Coffor: individual houses, multi-story buildings including high-rise buildings, industrial, commercial or administrative buildings. Several types of civil works can be done with Coffor. Coffor is delivered completely assembled from the factory. No assembly is necessary on the construction site.
Stay-In-Place structural formwork systems. This formwork is assembled on site, usually out of prefabricated fiber-reinforced plastic forms. These are in the shape of hollow tubes, and are usually used for columns and piers. The formwork stays in place after the concrete has cured and acts as axial and shear reinforcement, as well as serving to confine the concrete and prevent against environmental effects, such as corrosion and freeze-thaw cycles.
Flexible formwork. In contrast to the rigid moulds described above, flexible formwork is a system that uses lightweight, high strength sheets of fabric to take advantage of the fluidity of concrete and create highly optimised, architecturally interesting, building forms. Using flexible formwork it is possible to cast optimised structures that use significantly less concrete than an equivalent strength prismatic section,[1] thereby offering the potential for significant embodied energy savings in new concrete structures.